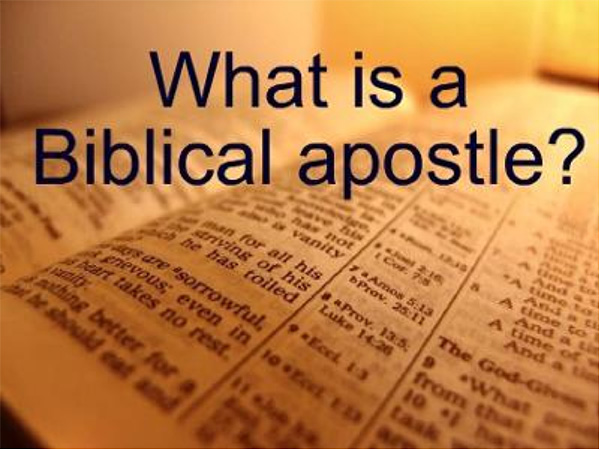 (from Rev. John Price's presentation at the NJ School of Apostles and Prophets)
1. Apostles have an easily recognizable relationship with Jesus.
Act 4:13  Now when they saw the boldness of Peter and John, and perceived that they were unlearned and ignorant men, they marvelled; and they took knowledge of them, that they had been with Jesus.

Mar 3:13  And he goeth up into a mountain, and calleth unto him whom he would: and they came unto him. 

Mar 3:14  And he ordained twelve, that they should be with him, and that he might send them forth to preach.

We hear often of being sent, but it is more important (first) that they be with Him.
2. They operate in a supernatural realm.
Act 2:43  And fear came upon every soul: and many wonders and signs were done by the apostles.

2 Corinthians 12:12  Truly the signs of an apostle were wrought among you in all patience, in signs, and wonders, and mighty deeds.

Heb 2:4  God also bearing them witness, both with signs and wonders, and with divers miracles, and gifts of the Holy Ghost…
3.  Apostles receive revelation to interpret what God is doing.
Acts 2:12 – 16  And they were all amazed, and were in doubt, saying one to another, What meaneth this? Others mocking said, These men are full of new wine. But Peter, standing up with the eleven, lifted up his voice, and said unto them, Ye men of Judaea, and all ye that dwell at Jerusalem, be this known unto you, and hearken to my words: For these are not drunken, as ye suppose, seeing it is but the third hour of the day. But this is that which was spoken by the prophet Joel;

Peter was able to communicate what God was doing.

Acts 15:7  And when there had been much disputing…

Acts 15:13  And after they had held their peace, James answered, saying, Men and brethren, hearken unto me: 

Peter quoted Amos 9 11-12 where God would restore David's tabernacle so the Gentiles could seek the Lord. If God is inviting them, we will not exclude them.
4. Apostles are trustworthy with money.
Acts 4:35  And laid them down at the apostles' feet: and distribution was made unto every man according as he had need.

Acts 20:33  I have coveted no man's silver, or gold, or apparel.

Acts 20:34  Yea, ye yourselves know, that these hands have ministered unto my necessities, and to them that were with me.

Philippians 4:11  Not that I speak in respect of want: for I have learned, in whatsoever state I am, therewith to be content. 
5. Apostles have authority to discipline and pronounce judgment.
Acts 5:3  But Peter said, Ananias, why hath Satan filled thine heart to lie to the Holy Ghost, and to keep back part of the price of the land?

Acts 5:9  Then Peter said unto her, How is it that ye have agreed together to tempt the Spirit of the Lord? behold, the feet of them which have buried thy husband are at the door, and shall carry thee out.

1 Tim 1:20  Of whom is Hymenaeus and Alexander; whom I have delivered unto Satan, that they may learn not to blaspheme.

1 Corinthians 5:3-5  For I verily, as absent in body, but present in spirit, have judged already, as though I were present, concerning him that hath so done this deed, In the name of our Lord Jesus Christ, when ye are gathered together, and my spirit, with the power of our Lord Jesus Christ, to deliver such an one unto Satan for the destruction of the flesh, that the spirit may be saved in the day of the Lord Jesus.

So Stop Sinning!
6. Apostles Lay down their lives for the church.
2 Corinthians 6:4-10  But in all things approving ourselves as the ministers of God, in much patience, in afflictions, in necessities, in distresses, in stripes, in imprisonments, in tumults, in labours, in watchings, in fastings; by pureness, by knowledge, by longsuffering, by kindness, by the Holy Ghost, by love unfeigned, by the word of truth, by the power of God, by the armour of righteousness on the right hand and on the left, by honour and dishonour, by evil report and good report: as deceivers, and yet true; as unknown, and yet well known; as dying, and, behold, we live; as chastened, and not killed; as sorrowful, yet alway rejoicing; as poor, yet making many rich; as having nothing, and yet possessing all things. 

In 2 Corinthians 11:

3 times I was beaten
3 times I was shipwrecked
Floated for a night and  day in the sea
Dangers from rivers, robbers, false brethren ect.
Been hungry, thirsty, cold and naked

Galatians 6:17  From henceforth let no man trouble me: for I bear in my body the marks of the Lord Jesus.

2 Timothy 4-6  Paul states his life was being poured out like a drink offering.
7. Apostles are fathers and mothers in the church (not masters and rulers)
Apostleship is a relational ministry

Another reason Apostles qualify to pass judgement

Apostles goal is for all entrusted to them fulfill God's call on their lives. Intercede, guide, instruct, correct, and open doors of ministry.

1 Corinthians 4:15  For though ye have ten thousand instructors in Christ, yet have ye not many fathers:

1 Th 2:7  But we were gentle among you, even as a nurse cherisheth her children.

---

Can women be Apostles? Yes, Junia is a woman's name.

Rom 16:7  Salute Andronicus and Junia, my kinsmen, and my fellowprisoners, who are of note among the apostles, who also were in Christ before me.
8. Apostles have a revelation of Israel and the One New Man.
We are grafted into God's eternal purposes – which includes Israel.
9. Apostles stand in intercession for the church.
1 Corinthians 1:4  I thank my God always on your behalf, for the grace of God which is given you by Jesus Christ;

2 Corinthians 11:28 Beside those things that are without, that which cometh upon me daily, the care of all the churches.

Gal 4:19  My little children, of whom I travail in birth again until Christ be formed in you.
10. Apostles are anointed to set the church in order .
Titus 1:4 – 5  To Titus, mine own son after the common faith: Grace, mercy, and peace, from God the Father and the Lord Jesus Christ our Saviour. For this cause left I thee in Crete, that thou shouldest set in order the things that are wanting, and ordain elders in every city, as I had appointed thee.